To quote Bruce, many, many thanks to all who have assembled pictures of this important Delica fix!
Many thanks go to
Mark WH
(from the UK forum buddies!) for writing these informative and very detailed instructions on how to fix the leaky seal in the front panel that commonly causes what is known as 'L300 Wet Foot Syndrome'
If you do use these instructions to cure your damp Deli, please PM Mark to give your thanks for his efforts in helping us keep dry! Very Happy Very Happy
markwh wrote:
OK CREW - HERE'S THE LATEST INSTRUCTIONS + PIX
....
* Step 1 - Removing the indicator pod and attached fascia (seen below the headlights)
* Positions are marked in yellow.
* There are 3 x crosshead screws: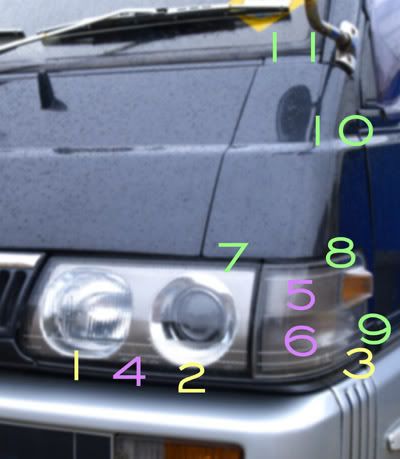 1 and 2 are located in the gap between the bottom of the headlight and the lower fascia panel (TIP 1 - Don't accidentally adjust the headlight beam angle – the screws are next to each other!)
3 is located on the side below the indicator pod.
The rear of the indicator pod has locating lugs so gently pull towards the front of your Delly rather to the side. There are two cables with locking connectors – remove and note which plug goes to which socket. All the cables are neatly tied to the chassis with a piece of wire – undo for better access.
* Step 2 - Removing the headlight pod
* Screw positions are marked in purple.
* There are 3 x machine screws with washers
With the indicator pod clear, unscrew the 3 machine screws starting with number 4 first. 5 and 6 are located on the side.
TIP 2 - the headlight pod is heavy so keep a tight hold when removing the final screw; otherwise.... crunch!. There is one connector to this pod – disconnect
* Step 3 - Removing the side wing
* Screw positions are marked in green
* There are 5 x crosshead self-tapping screws (that's ... FIVE)
Depending on whether you've been good in a previous life will depend on whether the screws come out easily or not. Obviously I must have been a traffic warden as mine were a pig.... Being in an awkward position means getting enough grip or "purchase" (a much underused word) is sometimes difficult so I used a screwdriver bit and a ring spanner (see next photo)
Open the door to access screw number 10.
11 is located just under the windscreen rubber and it's probably best to tackle that one with a normal screwdriver as you'll be bending back the rubber and screwing at the same time (ooh err missus) No need to remove it fully – just loosen off a little.
With all the screws off the panel should lift clear although there may be a little sealant sticking it to the body so carefully does it..
With the panel removed you're in for a shock..
* Step 4 - Clean up and prepare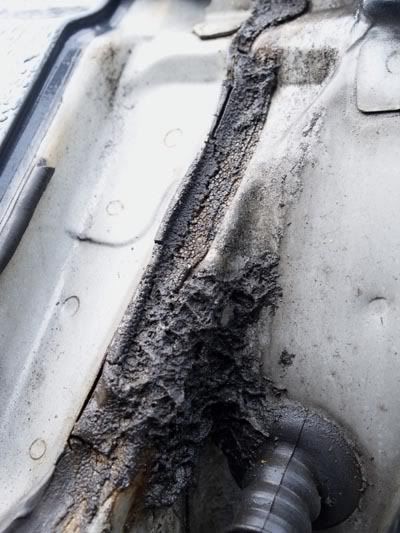 What a mess, huh? Something like a small chisel is best to scrape off the stubborn sealer. Remove every trace and clean up with a small iron brush and dry thoroughly with kitchen towel – In addition, I used a heat gun to make sure the exposed seam was bone dry.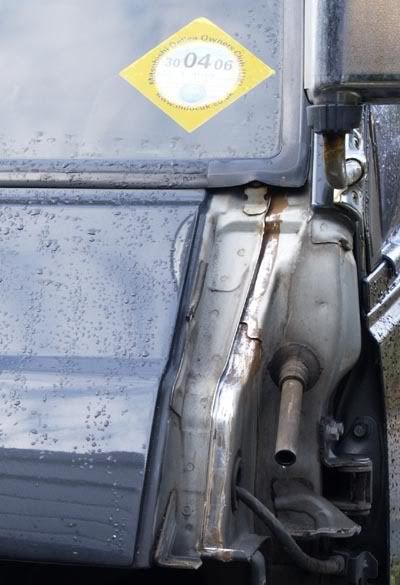 Looking better after a good clean up. Hey! – does anyone else use their MDOCUK sticker as a tax disk holder??
* Step 5 – Sealant Fun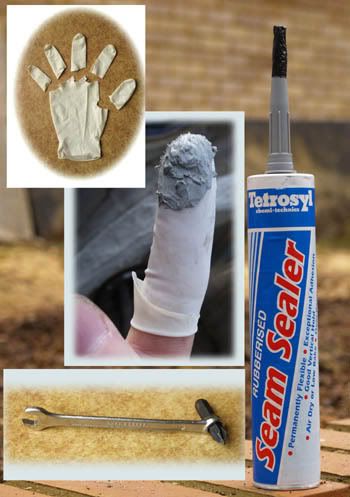 I used a tube of this stuff from my local motor-factors for about a fiver – recommended. Used less than a third and I was squirting it everywhere so if you've a delly-buddy close by, go halfs and share the fun for £2.50 a vehicle – bargain!
TIP 3 – Smear downwards – that's the way water normally goes
TIP 4 - Protect your skin by cutting a latex glove apart – you'll have 5 goes for about a penny (and retain your fingerprints too!)
* Step 6 – Finished !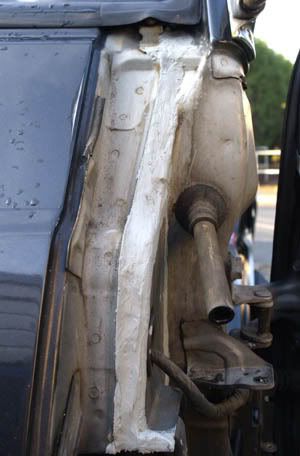 There, that's better – Simply re-assemble everything in the correct order - Now you can look forward to barefoot cruzin' without damp feet!
Total time (if your lucky) – 2 hours (max)
Enjoy xx
Mark Windsor-Hampton MDOCUK 2006
The Japanese have the problem sussed out and here are the pictures to prove it.
Remove the indicators & headlights first
Then the corner panel above them
Then you need to do a bit of painting
Then a bit of sealing as this is the leaking seam that lets the footwell fill with water
AND tidy up the sealant before you put it all back together again
AND they did this as group while on a trip...how very Japanese....how very Deli.....
Check your front floors and Good Luck.